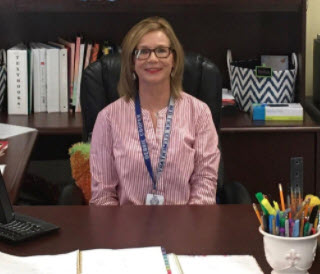 Welcome to Red Lick Elementary!
The 21/22 school year will begin my 10th year as the Elementary Principal at Red Lick. What an honor it has been to serve this community!
A little about me: I have been blessed with four wonderful now grown children, and ten delightful grandchildren. They are scattered around the country which gives me an excuse to travel which is one of my pleasures. I am blessed to have Haley, my beloved German Shepherd, to keep me company especially when we talk long walks together.
Google Classrooms, Google Meets, Remind, Screencastify, Jamboard, YouTube, Epic Books, Quizizz, Quizlet, Accelerated Reader, and SEM to name a few will be some of the programs you will hear your child talk about this year.
SEM, Schoolwide Enrichment Model, Fridays will continue this year. This is an opportunity for your child to engage in a new learning experience. It could be learning to sew or play the piano, bugology, cheerleading, gardening in our new green house, etc.
All of our students attend Spanish classes to learn conversational Spanish. Our technology lab has the newest technology and students from kindergarten through fourth grade learn coding.
We cannot wait to meet you and your child. It will be another great year at Red Lick Elementary!
Sincerely,
Debbie Cooper
dcooper@redlickisd.com
903-838-8230